The 1980s
Since 1980 Bo has lived in California. In spite of breeding an average of less than one litter per year, sometimes in partnership with other U.S. breeders, there have been many champions, most of them in the U.S. Many others have done well in other countries through puppies exported to fanciers around the world.
A major early influence was provided by the English import Ch. Hardknott Maestro of Bohem. He was imported after Bo as a judge had awarded both his parents a Challenge Certificate in England. Since Bo was not yet living permanently in the U.S. at that time, Maestro lived at the Whippoorwill kennels of Dr. Barbara Henderson on the East Coast almost his entire life.
Maestro's pedigree went back to the great old Laguna dogs that Bohem had started with in Sweden. He sired more than 40 champions in many different countries. One of his best daughters was the foundation bitch for Bohem in the U.S.: Ch. Whippoorwill Bohem Aria. "Beebe" was a great beauty in her own right and won two Specialty Bests in Show in the days when there were much fewer and bigger specialty shows than today.
In her three litters, Beebe produced 12 Bohem champions and several additional offspring that were titled in lure coursing, obedience, etc.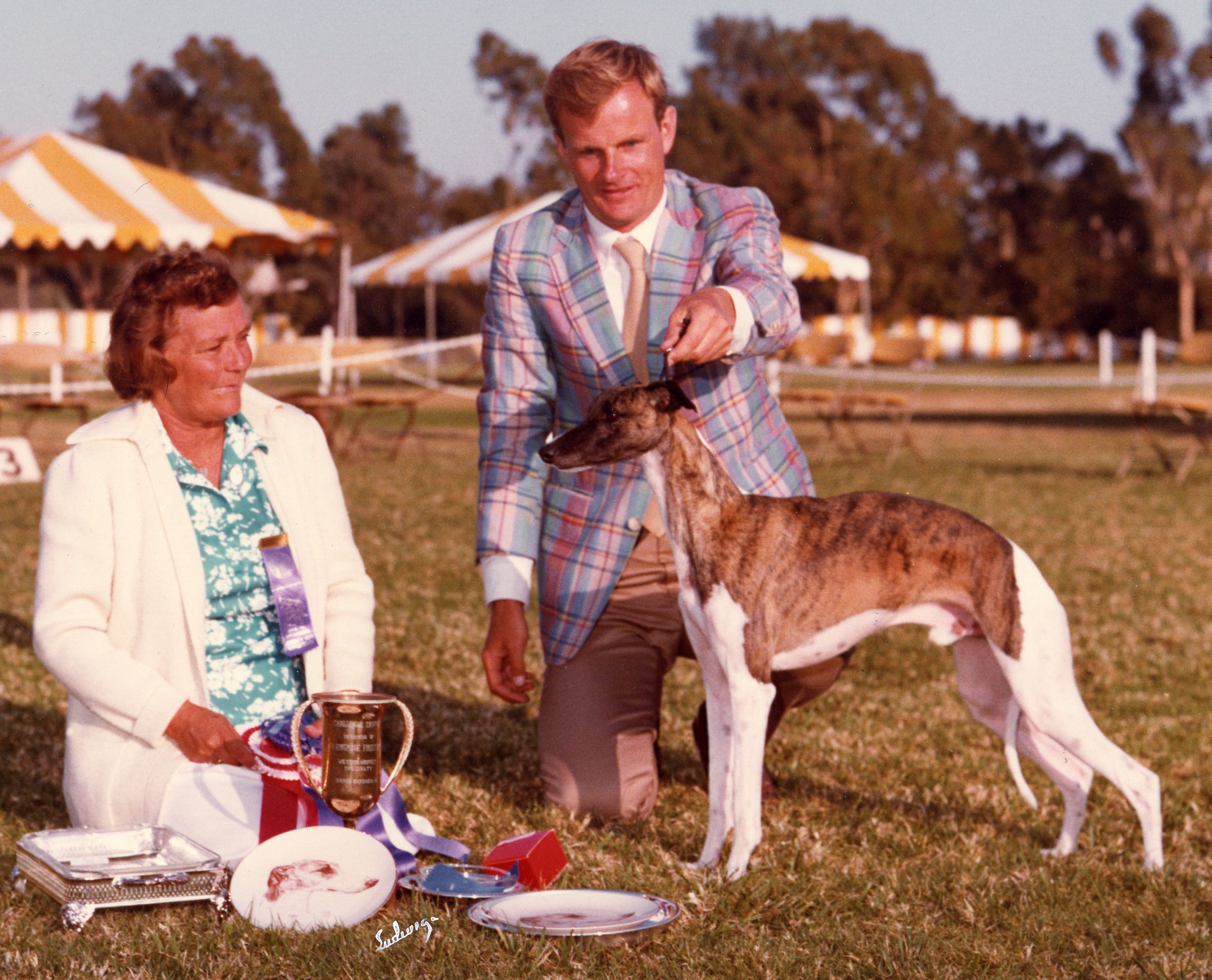 Am. Ch. Bohem American Way
b. 1982, by Int. Ch. Bohem Filipin x Int. Ch. Bohem Mae West
Owned by Kay Foster & Bohem
The sire of Beebe's most successful litter was Ch. Bohem American Way, who provided a link to the "old" lines in Sweden. His dam was, in fact, imported in whelp, and both his parents had been bred by Bohem in Sweden. "Chase" took the first big win for Bohem in California by going Best of Opposite Sex from the classes over a large number of beautiful champion males at the American Whippet Club Western specialty in Santa Barbara 1983. The judge was Mrs. Margaret P. Newcombe of Pennyworth fame.
Chase sired champions for several kennels, but his most famous daughter was Ch. Bohem Moonshine Lullaby, who won the AWC Eastern specialty in 1990 as well as all-breeds BIS. She died during a routine procedure at the vet's office at only five years of age without having produced any puppies. Her litter sister Ch. Bohem I Hear Singing continued the line for her breeder in the 1990s.
Ch. Bohem Delacreme Demoiselle was the result of a joint effort, with Bo leasing a champion bitch from Dr. Barbara Henderson (Whippoorwill) and breeding her to Mary Dukes' great sire Ch. Delacreme De La Renta. Eventually all three were listed as breeders. "Maggie," as she was called, was Top Whippet in the U.S. in the late 1980s, shown by Bo to win the AWC National Specialty in 1988 (with her grandsire Maestro as BOS), and to several more All-Breed and Specialty BIS by Phoebe Booth. In fact, Maggie was the first Whippet bitch to win both multiple All-Breed and Specialty BIS in the U.S. Owned during her show career by John Richardson, Maggie came back to California as a veteran and lived out her life at Bohem.
An example of successful exports, Int. Ch. Bohem Callas of Whippoorwill ("Maria" to her friends) went to Sweden as a puppy, was the first U.S.-bred Whippet to become a champion in Scandinavia, and was the foundation for Nenne Runsten's internationally successful Airescot kennel. Maria won BIS at the famous Skokloster Sighthound show and also at the Swedish Whippet Club specialty the same weekend.
BIS Int. Ch.
Bohem Callas of Whippoorwill
b. 1986, by Ch. Proud Fox of Whippoorwill x Ch. Whippoorwill Bohem Aria
Owner Nenne Runsten, Airescot Whippets, Sweden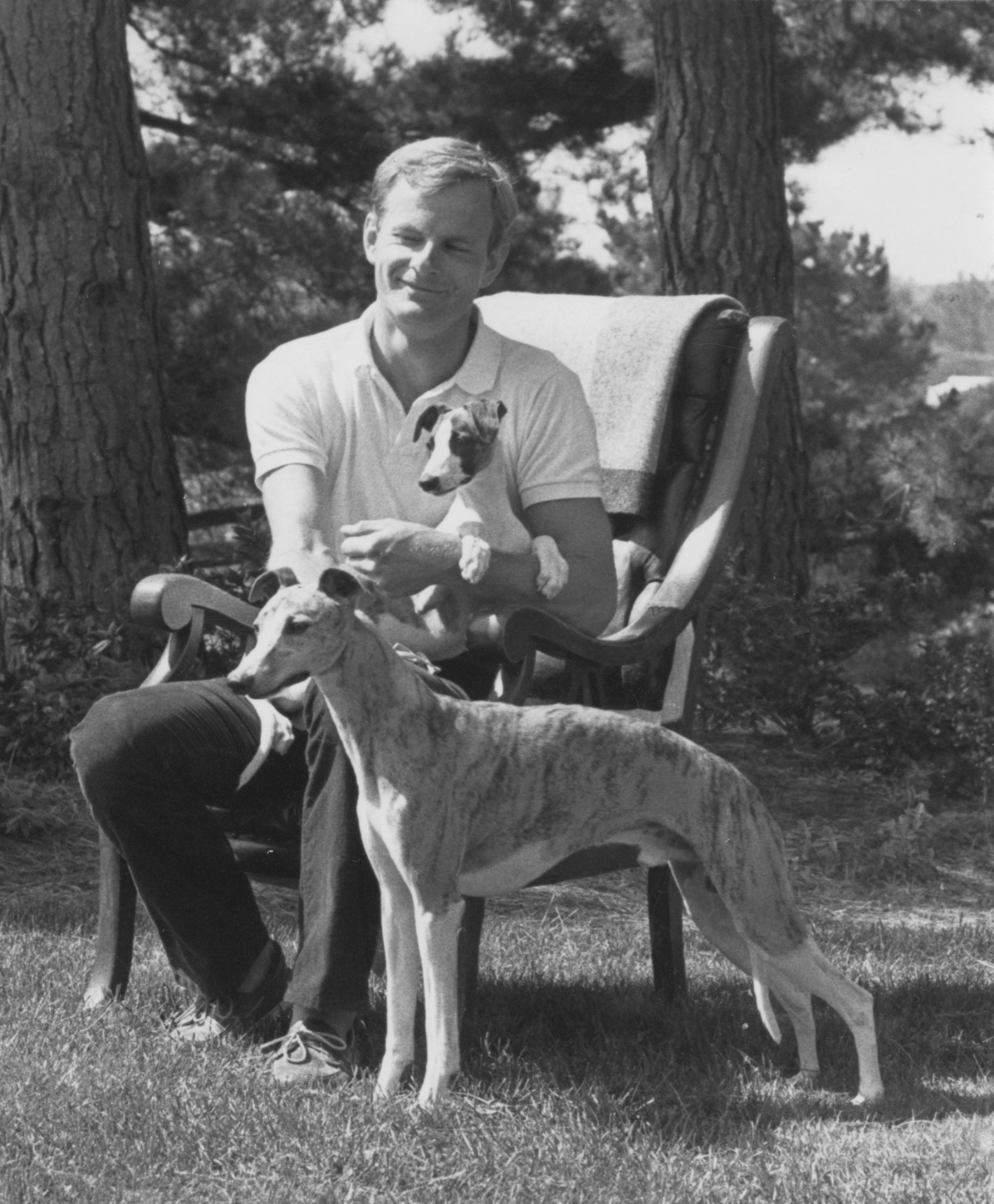 By the mid-1980s Bohem was established in California. A lot of the early success in the U.S. came via the English import Ch. Hardknott Maestro of Bohem, who spent most of his life back East at the Whippoorwill kennels. In 1983 he stayed in California for a few weeks; he is pictured with Bo and his young daughter "Beebe," later known as Multiple SBIS Ch. Whippoorwill Bohem Aria, ROMX – foundation bitch for Bohem in the U.S.